Scroll down for a video showcasing the power of the AI music video generator discussed here.
In the ever-evolving world of music video production, syncing visuals with music creates an immersive and resonating experience for viewers. With the latest update from Neural Frames, you can now upload your songs and generate trippy visuals in tune with your music, effortlessly.
The Symbiosis of Music and Trippy Visuals
Creating a harmonious balance between music and trippy visuals can amplify the impact of your artistic expression. Whether it's the rhythm of a psychedelic pattern or the beat-responsive pulsations of a trippy visualizer, matching visuals with the beat can transform your music into a complete sensory experience.
How to Create a Music Video in Tune with Your Songs?
With the innovative Neural Frames, the process of syncing your songs with trippy visuals is easy and fun. Here's how:
Choose Your Song: Pick the song you wish to create visuals for. The music will serve as a blueprint for your video's rhythm and mood. If you don't have a song ready, you can pick one from cool AI music generation sites such as  Soundful or Mubert.
Upload Your Music: In our latest update, you can directly upload your music to Neural Frames. This feature allows our AI Animation Generator to create visuals that are in harmony with your song.
Describe Your Vision: Write out a text prompt describing the trippy visuals you envision for your music. Be as specific or as abstract as you like - our AI is equipped to handle it all.
The cool part: Sync your trippy videos to element of your Song. We're automatically extracting the stems of your songs, meaning you can sync your created videos to snare, kick, hihat, or whatever you feel like individually.
Let AI Create Your Video: With your music and text prompt, our AI creates a bespoke music video, crafting trippy visuals that sync perfectly with your song.
Edit and Perfect: Using our video editor, fine-tune your creation to match your vision accurately.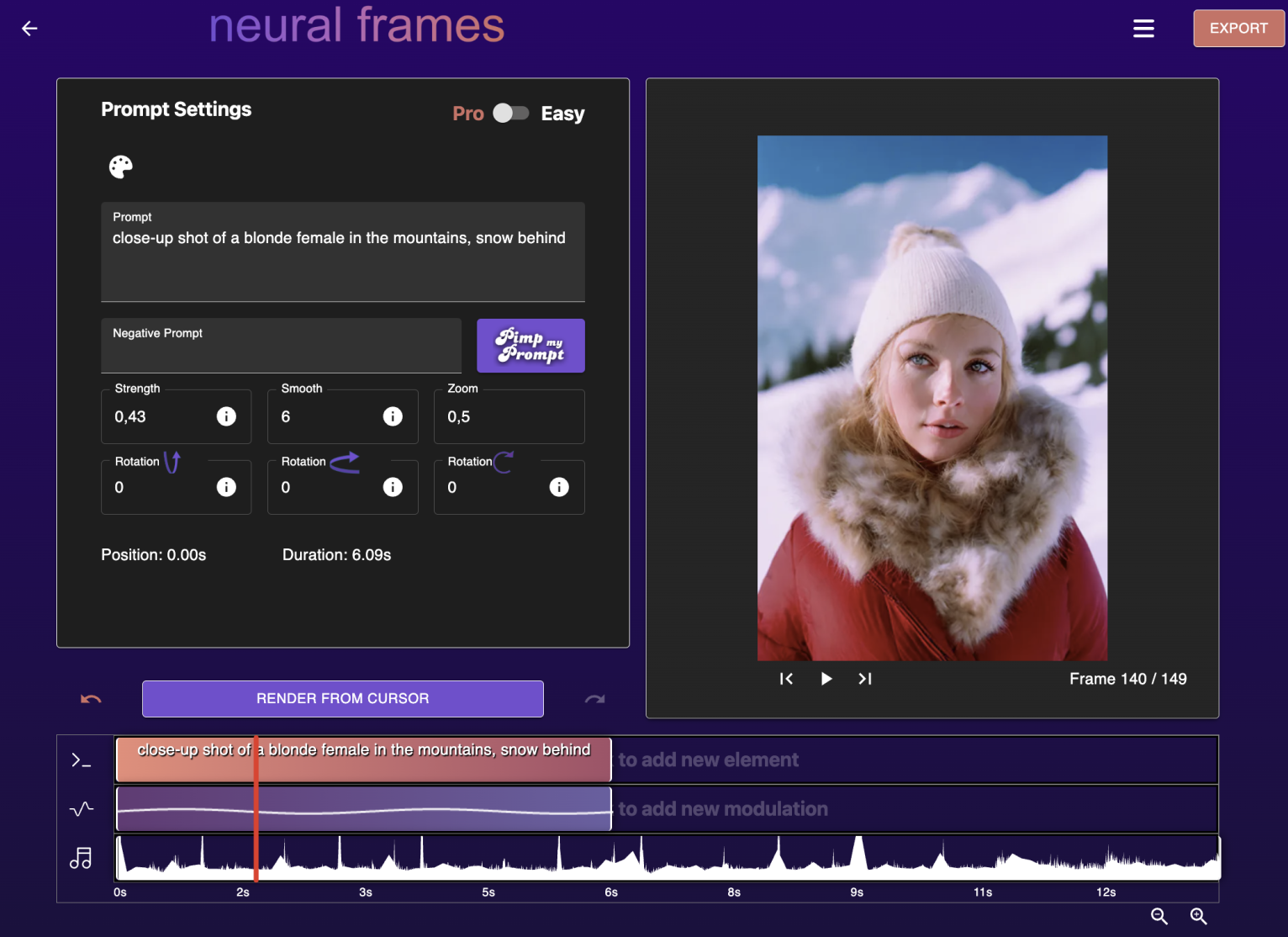 The Advantages of Using Neural Frames for Your Music Videos
Here are some reasons why Neural Frames is the go-to platform for music artists, DJs, and content creators:
Synchronization: With the new feature of music upload, Neural Frames ensures your visuals are perfectly in tune with your music.
Quality and Professionalism: Despite its ease of use, Neural Frames does not compromise on the quality of your videos.
User-Friendly: Our platform is designed to be intuitive, making the process of creating music videos enjoyable.
Affordability: With various subscription plans, Neural Frames caters to different budgets, making professional video creation accessible to all.
Limitless Creativity: With Neural Frames, there are no boundaries to what you can create. A surreal landscape, a psychedelic pattern, or a pulsating visualizer – you dream it, we create it.
Start Creating Synced Music Videos Today
Ready to take your music to the next level with perfectly synced trippy visuals? With Neural Frames, you're just a few clicks away from creating an engaging and immersive music video. So why wait? Dive into the world of synced psychedelic visuals today! Here's an example: