Have you ever watched a pulsing, vibrant display dance in sync with your favorite song on YouTube or Spotify? Those captivating visuals, ebbing and flowing with the music, are courtesy of audio visualizers. Audio visualizers are software or tools that turn music, podcasts, or any other form of sound into a dynamic visual experience. They bridge the gap between what we hear and what we see, transforming the intangible essence of sound into tangible, mesmerizing visuals.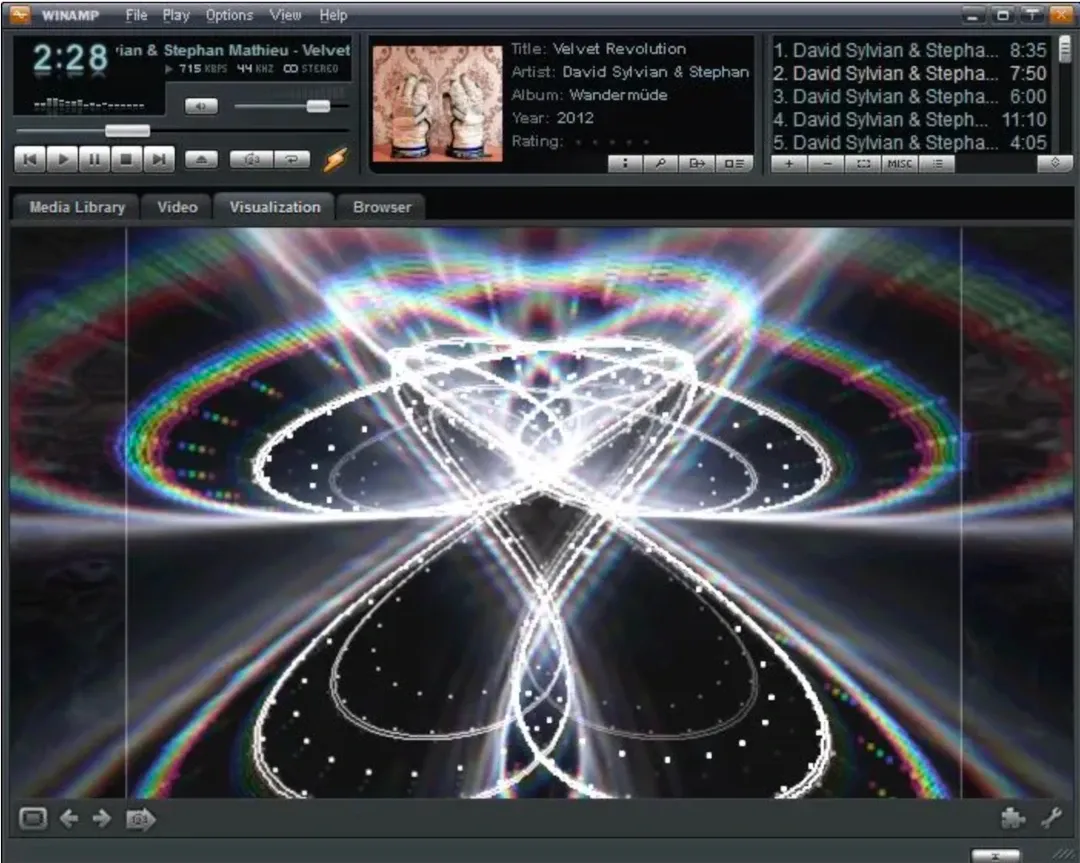 The idea of visualizing sound isn't new. Ancient civilizations used instruments and dances to give a visual context to their rhythms and melodies. But the digital age, with its technological advancements, has brought about a significant evolution. The 1990s witnessed the birth of computer-based audio visualizations with software like Winamp leading the charge. These tools allowed users to see patterns, colors, and graphics that reacted in real-time to their playlists, making music not just an auditory but also a visual treat. Today, with countless artists and creators harnessing these tools, audio visualizers have become an integral part of the digital music landscape, enhancing our overall music appreciation and experience.
How Do Audio Visualizers Work?
At the core of every audio visualizer lies a complex interplay of sound and vision. But how does one translate something as intangible as sound into a visual representation? It all begins with understanding the sound's frequency and its amplitude. Every sound we hear is a result of vibrations, which can be measured in terms of frequency (how fast it vibrates) and amplitude (how strong the vibration is). These two aspects of sound form the foundation for most audio visualizations. The audio spectrum is thus the visualization of the intensity versus the amplitude.
For instance, imagine a guitar string being plucked. The rate at which it vibrates determines its frequency, which in turn dictates the pitch of the sound. The force or vigor with which it's plucked influences its amplitude, determining the volume or loudness of the note. Audio visualizers take these parameters and convert them into corresponding visual elements. Higher frequencies might be represented as higher points or brighter colors, while louder amplitudes could manifest as bigger or bolder patterns on the screen. Thus, what we see on an audio visualizer is essentially a graphical representation of the amplitude and frequency of the sound being played. It is the physical spectrum coming to life. One could even add fonts as subtitles later on to make a lyric video out of it.
Popular Types of Audio Visualizations
As technology has evolved, so has the sophistication and variety of audio visualizations. One of the most recognizable types is the waveform. It's a simple linear representation of a sound's amplitude over time, often seen in music editing software or platforms like SoundCloud. The peaks and valleys in a waveform directly represent the loudness or quietness of a sound at any given moment.
Another popular visualization is the spectrogram. Unlike waveforms, which focus mainly on amplitude, spectrograms offer a colorful representation of both frequency and amplitude. They typically display time on the horizontal axis, frequency on the vertical, and use colors to indicate amplitude. The result is a vibrant, detailed image of a sound's entire spectrum.
Lastly, for those seeking more artistic and abstract visual representations, there are tools like Neural Frames. This software goes beyond the conventional, offering mesmerizing patterns, shapes, and animations driven by the music's essence. Rather than providing a direct graphical analysis of the sound, it allows using AI to transform words into audio-reactive animations, in a similar way as midjourney does it for images. It is a fresh, innovative take to create video content that any musicians' audience will love and that will stand out on social media platforms.
Why Are Audio Visualizers Important for Artists?
Okay, think about the last time you saw a cool animation move in sync with a song you were listening to on YouTube or Spotify. That's an audio spectrum visualizer at work! For artists, especially musicians, audio visualizers are super important. Why? Firstly, they make songs more interesting to watch. Instead of just listening, you're also getting a visual treat. It's like getting a double scoop of your favorite ice cream!
When artists perform live on stage, having captivating visuals playing behind them can take the concert experience to a whole new level. It's not just about hearing the music anymore; it's about feeling and seeing it come to life. Plus, when people come across these cool visuals on social media or music platforms, they're more likely to stop, watch, and become new fans. After all, we all love things that look good, right? And guess what? Some artists even use tools like Neural Frames, an online music visualizer, to create stunning visuals that are not just patterns but tell a story with the music.
DIY: Making Your Own Audio Visualizer
Ever wanted to make your own music video with cool animations that dance to the beat? Good news! You can totally DIY an audio visualizer. Firstly, you'll need some software. Programs like Adobe After Effects or Avee Player are popular choices. They're like the magic wand to your fairy godmother, turning simple songs into visual masterpieces. Neural Frames on the other hand offers audio-reactive text-to-video conversion - a novel approach to audio visualization.
To start:
Choose Your Song: Pick a song you love. Perhaps you just made one?
Select Your Software: Open up Adobe After Effects, Avee Player, or Neural Frames.
Follow The Guide: Most video editing software will have tutorials, guides or even templates to use. Follow them to sync your song with cool visuals. Neural Frames, for instance, has a Youtube Channel, full of tutorials.
Remember, the best part is customization of your visual effects! Want a space theme with stars and planets? Or maybe a neon city vibe? Play around, mix colors, change patterns, and let your creativity run wild. It's all about making something that feels right for your audio waveform and looks awesome! You can use any of these softwares on all platforms, be it on Apples iOS, on Android or on Windows.
The Future of Audio Visualization
Have you ever dreamt about what it might feel like to literally step inside a song? With the way technology is moving, that dream might soon become reality. Augmented Reality (AR) and Virtual Reality (VR) are like magic goggles that can take you to another world. Imagine wearing these goggles and seeing your favorite tunes come alive in colorful patterns around you. But that's not all! Thanks to the wonders of Artificial Intelligence (AI), we now have tools like Neural Frames that use smart thinking to automatically craft these visuals. Instead of artists spending hours to design the perfect visual, these AI tools can whip up eye-catching patterns in no time. Neural Frames can also be used to create full-length music videos. And the future? It's full of possibilities. There's talk about letting fans change visuals during live concerts, letting them touch and reshape visuals as the song plays.
Tips for Choosing the Best Music Visualizer
Picking the right visualizer is a bit like matchmaking. You want the perfect visual partner for your song. First, feel the vibe of your music. Is it a sunny, upbeat track or a moody ballad? Whereas on other softwares, you'll need to go through all the presets, templates and customization offers, on a platform like Neural Frames you can speak to the AI which will create the AI animations for you. It is a free music visualizer that visualizes the sound waves you make with fun. But before you decide, it's smart to sneak a peek at reviews. What are others saying about it? Lastly, check if there's a friendly community around the tool. Having fellow users to chat with can give you cool ideas and quick solutions if you ever get stuck.
Conclusion
In today's digital age, where everything is online and flashy, standing out can be tough. That's why high quality audio visualizers are the secret sauce for many artists. They add that special touch, making songs not just heard, but also seen and felt. With cutting-edge video makers like Neural Frames leading the charge, the world of music visuals is evolving rapidly. So, whether you're an artist, a student, or just someone who loves music, now's the perfect time to dive in. Who knows? You might just create the next big visual sensation!