In todays' world, musicians need visual content for every song they put out. With social media platforms being the main source of new listeners, it is as important as never before, to be active there, be it for creators, for brands or for musical artists. One problem for musicians, however, is that music is no visual art. Without some kind of visual content, your music will get lost on YouTube, TikTok and Instagram. Even on Spotify, animated visuals, in the form of Spotify Canvas, are becoming the norm, and have been reported to double the number of plays of a song!
The implications are clear: to effectively promote their work and expand their listener base, artists must consistently release visualizers and high-quality videos. However, the creation of these videos often demands more resources and time than the music itself. Given the hefty production costs and requisite technical expertise, crafting a music video can resemble an arduous ascent up a treacherous mountain—without the necessary equipment. But what if there were an easier way?
The Traditional Challenges
Have you ever tried making a music video? It's not as easy as it looks and often times more complex than music production. Planning a music video is like planning a mini-movie. You need to think about locations, actors, costumes, video editing, and of course, how to bring your song's message to life visually. This process can take weeks, even months! And that's not even getting into the actual filming and editing, which can be a whole saga on its own.
Now, let's talk money. The pricing of even the simplest video can be mind-boggling. Think about hiring a camera crew, paying for locations, or renting props and equipment. Plus, if you want any special effects or animation, that's an extra cost. It's enough to make anyone think twice about even starting. But let's say you've got the time and money. There's still another major hurdle: skill. Filming is an art. It requires a good eye for angles, lighting, and knowing how to stitch together scenes in a way that tells a story. Not everyone has these skills or the means to learn them.
The Power of AI in Visual Arts
But there's a game-changer in town, and it's the ongoing revolution of artificial intelligence, or AI for short. You can think of AI as an endorsing colleague, who never gets tired, who's smarter than most of your friends and who has super powers, because it can create things in an unprecedented speed. One of the coolest areas AI is dipping its virtual toes into is the world of art. Paintings, music, and yep, you guessed it - music videos.
Take neural frames, for instance. It's a platform where you can produce AI-generated music videos using AI. No need for a camera crew or big budget. The AI does a lot of the heavy lifting. You give it your song and a general idea of what you want visually. The AI then pieces together a video that's in tune with your song. It's a new process of collaborating with the AI and it's fun! And it's not just Neural Frames. Across the globe, artists are using AI tools to paint pictures, write songs, and even choreograph dance routines.
Imagine a world where art isn't limited by resources or skills but by imagination. That's the power of AI in visual arts. It levels the playing field, allowing anyone with a creative vision to bring it to life.
How to Make a Music Video with Neural Frames
Creating a music video content might seem daunting, especially if you're new to video production. But neural frames is here to change that narrative. The process is intuitive and can be done with a few mouse clicks. Here's a step-by-step guide on how to create a music video with our platform:
Conceptualize: Brainstorm the visuals that you want to pair with your song. It could be a narrative that complements your lyrics or trippy visuals that make your video stand out. This step can also be ignored - the AI will find its way in any case. And there's also many templates to choose from.
Upload Your music file: Upload your song to Neural Frames. Our AI Music Video Generator will sync your music with the visuals. If you don't have your own song, you can use AI music generation sites such as, e.g., Soundful or Splash or even a text-to-video tool such as MusicLM.
Write Prompts: Describe your desired visuals or the story you want to tell through a series of text prompts. You can also freely select the format of the video. The prompt is the starting point for the generated images. We also have a machine-learning-based prompt assistant that assists in the prompt writing process.
Generate Video: Watch in awe as our AI Music Video Maker turns your text into a visually stunning video that's perfectly synced with your song. This is user-friendly AI technology at its peak. If you don't like what's being generated, you can interrupt the process at any time, saving time and costs.
Edit: Make any necessary tweaks using our intuitive editor, designed for easy music video editing. You can even introduce cut scenes, transitions and become the director of your AI music video.
Case Studies: Artists Leveraging AI tools for Stellar Visual Content
1. Mario Novembre's "Papaya" Visualizer - A TikTok Sensation:
When you think of prominent artists making waves with Neural Frames, Mario Novembre, a popular German TikTok star, immediately comes to mind. With 5 million followers on TikTokand a track record of hits, Mario decided to experiment with neural frames for his song "Papaya".
The task? Create a captivating music visualizer for the upbeat track. Now, conventional music video production could take days or even weeks. But Mario, leveraging the power of Neural Frames, crafted a stunning visual representation of "Papaya" in merely 2 hours! Yes, you read that right. Just an hour of work led to a video that resonated with fans, garnering over 500,000 views in a short span. This not only showcases the efficiency of neural frames but also its ability to produce high-quality content that connects with the audience.
2. /dev/null's Vibrant Electronic Odyssey with Ben Nash:
Ben Nash, a talented AI Artist, paired up with Brazilian electronic producer /dev/null to embark on a visually electric journey. Tasked with creating music videos for the pulsating beats of /dev/null, Ben turned to neural frames.
The result was a series of videos that perfectly complemented the energetic and unique sounds of the Brazilian producer. Each video was a kaleidoscope of colors, patterns, and visuals that seemed to dance alongside the music, created from nothing but words. It was as if Neural Frames had breathed life into /dev/null's tracks, creating a visual narrative that was both intriguing and mesmerizing.
These videos, much like Mario's "Papaya" visualizer, serve as a testament to neural frames' prowess in the realm of AI-assisted video production. With ease of use, rapid turnaround times, and outputs that rival traditional production methods, it's no wonder artists are turning to this revolutionary tool to enhance their musical storytelling.
Frequently Asked Questions (FAQs)
1. How does Neural Frames work?
Neural Frames is an innovative platform that utilizes the artificial intelligence (AI) Stable Diffusion to produce the best AI-generated, audio-reactive animations. It is a full-blown video generation suite that feels a little bit like a DAW, with the AI being a visual synthesizer. Users have a high degree of freedom on how the videos will look like, making it an engaging product, perfect who musicians who want to fulfil an artistic vision.
2. Do I need technical know-how to use Neural Frames?
No, you don't! The platform is designed for users of all skill levels. With an intuitive user interface and a step-by-step guide, creating your AI-generated music video is straightforward even for beginners.
3. How long does it take to create a video with Neural Frames?
While the time may vary depending on the complexity of the prompts and the length of the song, the platform is known for its rapid turnaround times. Artists have made videos in 15 minutes as well as in multiple days. This truly depends on your preference and how much time you want to spend in the video editor.
4. How do the AI-generated videos compare in quality to traditional music videos?
AI-generated videos, especially from Neural Frames, have proven to be of high quality, rivalling and, in some cases, surpassing traditionally produced content. Examples like Mario Novembre's "Papaya" and /dev/null's music videos underscore the platform's ability to produce captivating visual content. It produces somewhat trippy videos with a unique aesthetic. It's audioreactive capabilities are one-of-a-kind.
5. What if I don't have a song of my own?
No worries! You can use AI music generation sites like Soundful or Splash, or even text-to-video tools like MusicLM to provide background music for your video.
6. Can I use Neural Frames for other types of visual content besides music videos?
While the primary focus of Neural Frames is music video creation, its capabilities in crafting visual content make it a potential tool for various artistic endeavors. People have been using the powerful tool to visualize short-stories or podcasts, for other artistic use cases or even in marketing. It's always a good idea to explore the platform and see how it can cater to your specific needs.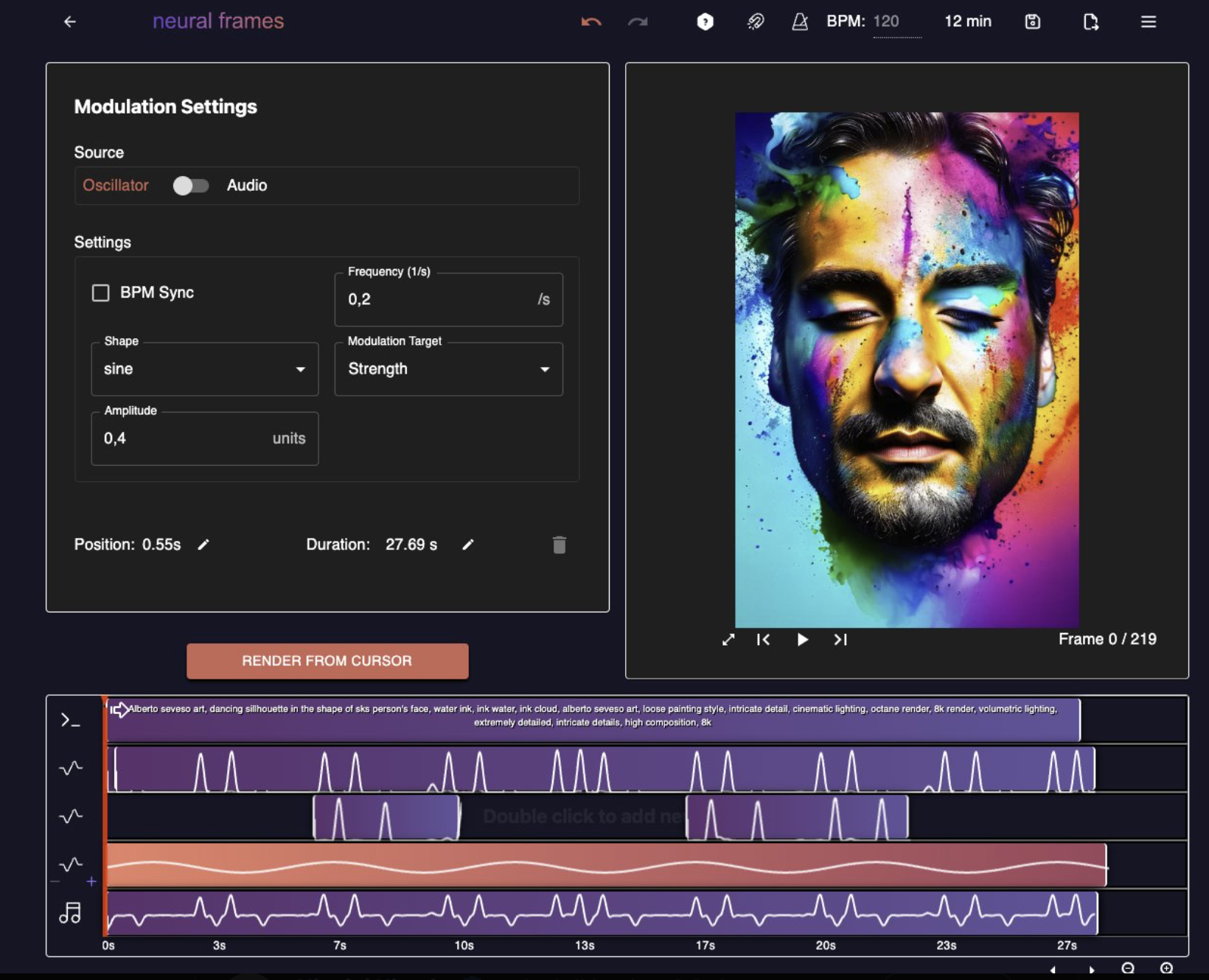 Get Started Today!
Ready to produce a music video that stands out? With Neural Frames, the future of music video production is in your hands. Start creating your free AI music video today and take your music to new visual heights! There are several tutorials on our YouTube channel or simply click here and enjoy our free offer for new users.